A keynote speaker who informs, inspires, and engages.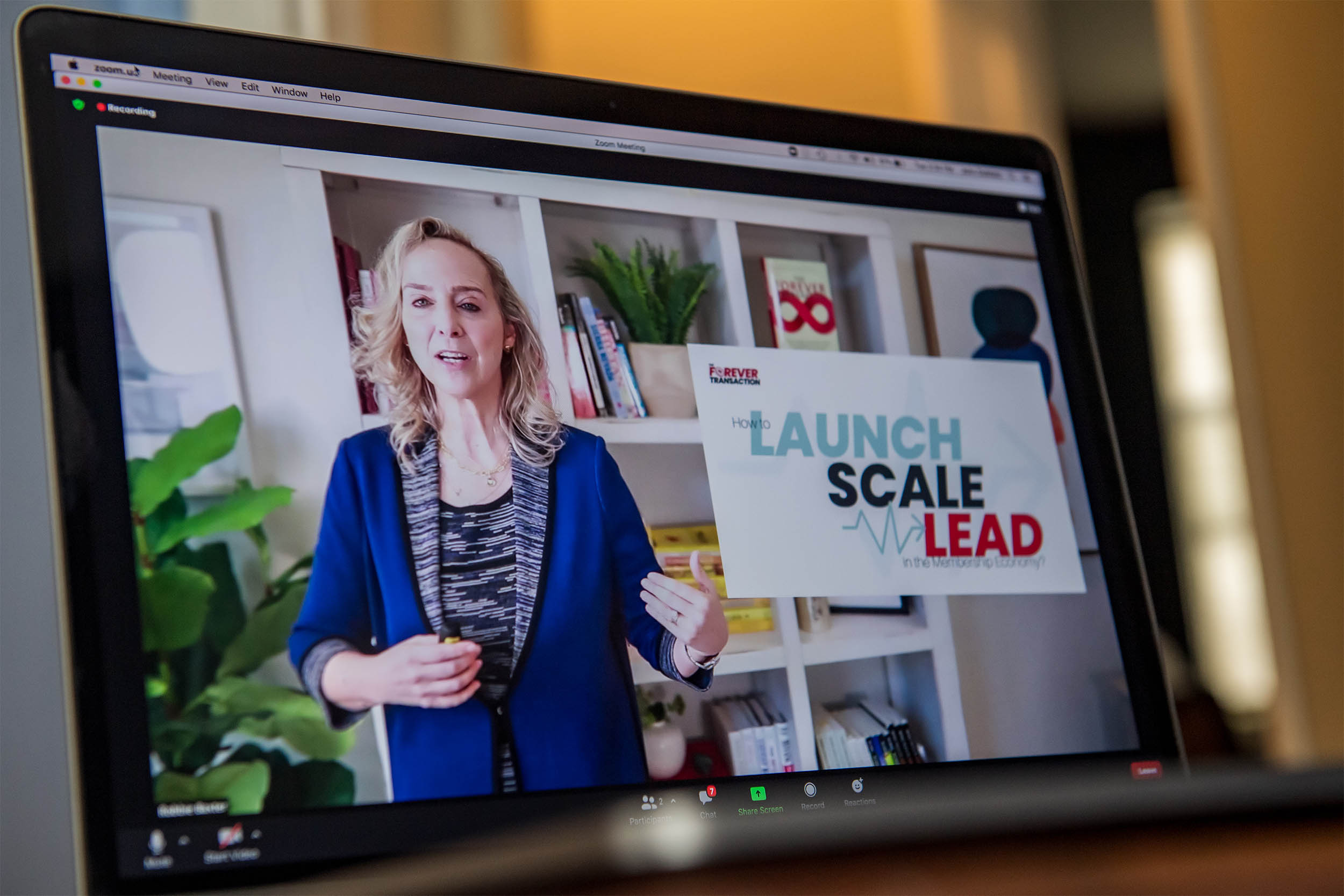 Robbie Baxter's in-person or virtual keynote speeches are impactful events delighting audience members with their combination of practical advice, inspirational ideas, and candor.
Robbie coined the popular business term "Membership Economy", which is now being used by organizations and journalists around the world.
A well-known authority on business innovation and marketing strategy, Robbie has worked in the trenches with industry leaders like The Wall Street Journal, Netflix, Electronic Arts, and the National Basketball Association, as well as dozens of venture-backed companies, on building forever transactions using tactics like subscription pricing, membership models and digital community.
How The Membership Economy is Changing Everything
Beyond Subscriptions: Best Practices in Building Loyalty & Community
The 7 Principles of The Membership Economy
What your organization needs to learn about membership
Inflection Points on Organizational Life Cycles: Handling The 5 Critical Moments of Truth
How The Membership Economy is Changing Customer Expectations
"The Membership Economy: What It Is and Why It Matters for Operations" Winter Ops Conference, Snowbird, Utah
"What Associations Can Learn About Membership From the Private Sector" Association Transformation Conference, Washington, DC
"Building a Forever Transaction with Every Customer—The Key to Successful Subscriptions" The Subscription Show
"Membership Models: Is It Time For A Change?" Council of Engineering & Scientific Society Executives (CESSE)
"Super Users and The Membership Economy" Totango Customer Success Summit
"How Media Companies Can (and Should) Harness the Power of Membership" International News Media Association
"A Silicon Valley Guide to Engagement, Loyalty and Optimal Revenue" ASAE Great Ideas Conference
I brought Robbie in to speak to an audience that was all CEOs and she did a fantastic job. Months later these executives remember Robbie and are using her material. Bringing Robbie in was one of the best decisions I made.
It was great listening to Robbie in London as a keynote speaker at the International News Media Association's (INMA) Subscriptions Summit. Amazing clarity with which she spoke and she owned the topic at hand "The Membership Economy".
Robbie was a big success as the keynote for our Deane Kanaly Lecture Series.
Robbie is the Sun Tzu of membership: she knows all the tactics, is a master of strategy and can infuse your mission with the underpinning philosophy of membership that creates favorable conditions for scaling up. I highly recommend her as a speaker and a consultant.
Engage Robbie for Your Next Event
Contact us to discuss how Robbie can transform your next event with a customized, inspiring program.
Get the 7 Critical Growth Strategies for Subscription-Based Businesses
Trying to build a more predictable and lasting relationship with the people you serve? This is a guide to a better business model.
You'll also receive periodic news and updates from Robbie Kellman Baxter.