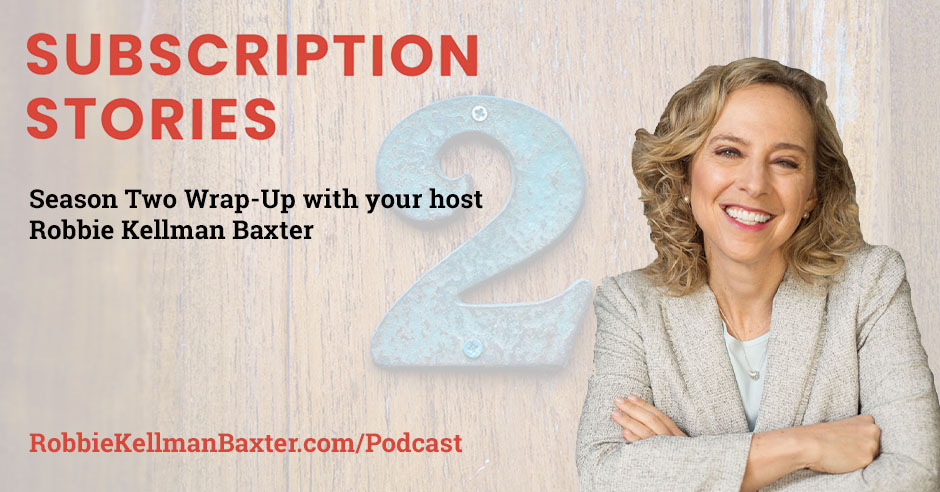 As we wrap up Season 2, we're reflecting on the amazing guests we had, and all of the wisdom that was shared.
We covered best practices in pricing, scaling and supporting your subscription offering, and did deep dives on what membership means at organizations including CrossFit, Nike and YPO.
Take a listen to this 5 minute short, to hear about them all. We'll be back with new episodes this fall!
—
Listen to the podcast here:
As season 2 of Subscription Stories draws to a close, I am reflecting on the amazing guests we
had.
Early in the season, we had John Warrillow, the creator of the Value Builder System, and Steve
Cakebread, serial CFO who helped take companies like Salesforce, Bill.com and Pandora
through the IPO process. They shared secrets on how to build a valuable subscription business,
and best practices for attracting investment. We all know that subscription businesses get higher
valuations than their transactional and episodic peers, but Steve and John explained the
operational details that drive those multiples.
Both Scott Mordell, longtime CEO (and member) of the Young Presidents Organization (YPO),
and McKeel Hagerty, Past Chair of YPO, and CEO of classic car insurance and lifestyle
company Hagerty, dug in on how to build engaged communities among busy people. Often with
subscription businesses, members, come for a product or feature—but then stay for the other
members—community is a powerful tool in driving engagement.
And Nick Mehta, CEO of Customer Success company Gainsight, broke down the best practices
of building engagement among all customers, across each customer's lifetime.
We had several subscription box entrepreneurs, who explained the operational challenges of
launching, scaling and leading when physical products are part of the mix. Matt Fiedler, Founder
of music ecommerce company Vinyl Me Please broke down the details of outsourcing
fulfillment, while Alli Harper, an accidental subscription entrepreneur and founder of
OurShelves explained how her children's book subscription is merely a tactic to help her achieve
a broader mission of getting more books with diverse families published in the US. And
INTRApreneur Dave Cobban shared his journey of developing a kids sneaker subscription
inside NIKE.
Pricing is always a hot topic when you're building a subscription offering, and we had two
pricing experts on the show this season. Reforge's Elena Varna broke down the emerging
discipline of "Growth" and talked about why "Free" is such a powerful tool. And Xiaohe Le
compared subscription pricing strategies and challenges at 3 companies—Apple, VMWare and
GitLab, where she currently works.
Subscriptions aren't just for big companies. John Lee Dumas talked about how anyone can build
a thriving business and his new book The Common Path to Uncommon Success, which
incorporates learnings from over 3000 interviews John's conducted since 2012 with guests
including Tony Robbins, Tim Ferris, Barbara Corcoran, Gary Vaynerchuk and even yours truly.
Gyms get a bad rap when it comes to subscriptions—but CrossFit has reinvented the way people
get and stay healthy. Eric Roza bought CrossFit in 2020 from CrossFit founder Greg Glassman.
We talked about the secret sauce that makes Superusers out of so many CrossFit Members, as
well as the unique challenges of building buy in and engagement across a highly diverse and
vocal group of stakeholders.
Finally, two of my favorite episodes this season were with women who run subscription
businesses inside larger companies—Tinder's Renate Nyborg who runs their Europe/Middle East
and Africa business, and WarnerMedia's Molly O'Connor who leads Business Planning Strategy
for WarnerMedia Sales Distribution, HBO Max, Cinemax and Turner Networks, across all US
distribution partners. Both of them talked about the challenges and opportunities of maintaining
and expanding leadership of a strong brand across new markets and channels.
You can catch up on all of this, as well as the episodes from first season. Early guests include
MightyNetwork founder Gina Bianchini, Impossible Foods Marketing Leader Jessie Teitz
Becker and the mastermind behind Electronic Arts' subscription strategy, Mike Blank.
If you enjoyed any or all of these episodes, can I ask you a favor? Would you take 5 minutes to
go to Apple Podcasts, and write a review? These reviews help me understand what you enjoy
most, so I can do more of that. Reviews also help other people find our podcast, which is
important to our success and ability to keep doing what we're doing here at Subscription Stories.
It takes just a minute or two, and it means so much.
You can also send me an email with ideas for next season at [email protected] .
Thanks for your support. And see you in the fall!
Love the show? Subscribe, rate, review, and share!
Join the Subscription Stories Community today: